Welcome to our Sermons page!
On this page, you'll find the most recent messages from Pioneer Bible Church.
If you want to keep a copy of the sermon and play it later, click on the Download button on the player dialog box below to download sermons in MP3 format that you can play your MP3 player or iphone, itunes or ipod devices.
To listen to the sermons online, click on the Listen link on the right of each sermon, then click on the play icon on the player dialog box. The sermon will start playing on the website and no software is required to listen to the sermons.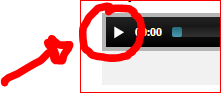 Turn up your volume and enjoy the sermons.
More From "The Word of God"